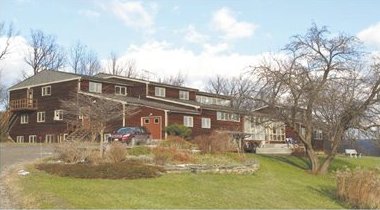 Photo of the Springwater Retreat by Brian Hudson. Click the image to enlarge.
One can almost sense a collective sigh as the hustle and bustle of the busy, and sometimes stressful, holiday season once again comes to a close. It is time for a few days of quiet reflection and tranquil self-awareness before our thoughts move toward the hopes and challenges of the new year. And, the perfect place to embrace fresh insight and inner balance is Springwater Center-a retreat for meditative inquiry located about two miles north of Springwater on 200 acres of land adjacent to the state forest surrounding Hemlock Lake.
A few months ago, while visiting the area, I stopped by the Center to learn more about what they offer. I was immediately greeted by the friendly full-time staff and then graciously given a tour of the well-appointed facility which included: 16 guest rooms, a large kitchen from which the staff prepares vegetarian meals for the guests, a large dining room, a spacious sitting room, open zen-like spaces and an outdoor area with spectacular views for sitting, eating or just enjoying the serene natural surroundings. I was also told about the several retreat options available, which range from two days to five weeks.
At Springwater Center, retreats offer daily sitting periods, group dialogue with teacher participation and private meetings with teachers and between retreat participants. However, all activities are optional and all guests are free to conduct the retreat as they choose, which reflects the Center's nontraditional approach that is free of dogma and ritual. The only requirements are to participate in silence and do an hour of work each day. With the elements of retreat offered as resources rather than requirements, people find that awareness and attention arise naturally in the silence of their everyday activities. Without the subtle pressure to fit a particular way of practicing, awareness reveals itself without effort.
Springwater Center was founded by Toni Packer in 1981. Trained in Zen and chosen by Roshi Philip Kapleau to succeed him at the Rochester Zen Center, Toni instead was drawn to leave the traditional forms of Buddhism to work with the essence of meditative practice-attending to what is happening within and without, in the immediacy of each moment. Although, for the past few years Toni has been unable to personally participate in the retreats due to physical problems, the principles on which the Center was founded are adhered to by the teachers chosen by Toni to continue the Center's work: Wayne Coger, Stephan Bielfeldt, Sandra Gonzalez and Richard Witteman.
A few weeks after my visit, I spoke by phone with Wayne Coger, and his wife, Susan, who is also a staff member. Wayne has been a staff member at the Center since 1983. What attracted him to become involved with the Center was Toni's approach to meditation, which allows a more flexible sense of freedom to discover for oneself what is valuable. Susan, who was looking for an appropriate teacher at the time, joined Toni shortly after the Center was formed.
According to Wayne, people, after attending a retreat, tend to go home with a fresh quality of openness and an ability to cope more effectively with challenges that occur in day-to-day life-one is more able to view these situations less as obstacles or something to overcome and more easily and clearly see solutions to the problems without being thrown off-center. It is what Toni called "stability of awareness." About his work at the Center, Wayne said, "I think it is just the joy of discovery ... that's what sustains the work. It doesn't feel like work if you enjoy what you are doing."
For further information about Springwater Center and its retreats, call 585-669-2141 or visit the website: www.springwatercenter.org
Diane Olson is the Editor & Publisher of The Lake Country Weekender, LCWeekender@stny.rr.com
Say you saw it in The Lake Country Weekender!