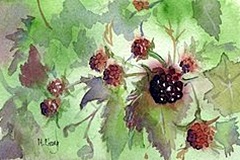 Here in the Little Lakes, July shimmers like sun on water or a welcome breeze. July begs for forgetfulness, asking us to take time to slow down to enjoy the season and the offering that full summer presents. I find one of the best ways to plunge into the gifts of July is to go foraging for wild berries. Berry picking of any kind, be it a local u-pick farm, your own garden red raspberries, or an abandoned field edge, is certain to pull anyone into the moment. Berry picking makes summer stand still for just awhile, giving the impression that the shortest season we have can go on indefinitely.
Gathering offers wilder fruits and more exotic flavors, but does require good identification tools like a Peterson Field Guide to Edible Wild Plants. The maple-shaped leaves of American black currents or prickly gooseberries make for exotic trailside snacks or serve as unusual add-ins to your favorite berry recipe. Thimbleberry is one of these rare fruits that I can only describe as having a flavor something between a tart apple and strawberry wrapped up in one. This velvety, large-leaved shrub with its wide pinkish red berries grows in shady areas often found while exploring out shale-filled gullies and creeks, making for a perfect combination of stream walking and gathering on a hot summer day. Like the raspberries, thimbleberry is in the rose family.
Other wild favorites include trees like serviceberry, or juneberry, a small tree whose delicious little berries are gaining popularity. Trees like chokecherry and black cherry are a bit more work, and mulberry, a tree prolific with huge purplish fruits (there are white berry tree varieties) are so sweet you will find them often swarming with sugar-doped bees and other insects. A bit of lemon or other tart fruit makes a good accompaniment to mulberry, where as chokecherry demands plenty of sugar.
In more tannic or sandy soils, such as under oaks or near piney woods, one can find a variety of wild lowbush or highbush blueberries and darker-skinned huckleberries. In thicker soils, you can pick mayapples under their wide umbrella leaves - if the raccoons haven't gotten to them yet.
When out gathering for abundance, black caps, red raspberries, and - later in the season - blackberries usually take the prize. The long thorny canes of brambles don't produce fruit the first year, but during their second year the cane produced a plethora of flowers of berries and then dies. Some of my fondest summertime memories are of endless hours out in some field edge or dirt road, dressed in a wide-brimmed hat and long-sleeved shirt and pants, with a pail in hand, just drifing in and out of thought while gathering fruits. Berry picking is meditative. Time really does stop in a berry patch, summer stretches its neck a bit longer, worldly cares fall away with each earnest pluck focused on avoiding prickers, and as the chime of berries hitting the pail bottom grow muted, one is reminded of the bounty Earth gifts us, how blessed we really are, and how just being present and gratefull for this moment in this season - sticky and purple-stained as it might be - is truly the best use of our time in the end.