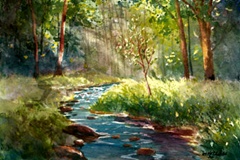 The soles of our feet have more sensory receptors per inch than almost any other part of the body; maybe that is why going barefoot on the ground, or drenching our toes in slick mud, or stepping into the cool of a running stream, is such an exhilarating experience. As a child I walked barefoot in the creek bed near my house for whole days, waking the next morning to slightly bruised feet, the imprint of the rocks there still with me. Henry David Thoreau said, "when my feet begin to move, my thoughts begin to flow." Walking in the flow of a stream on a hot August day with our feet opening our senses is as thought-provoking as anything one can experience.
I love to swim in our clear Finger Lakes, but often I prefer the loll of creek walking under the dappled shade of a riparian zone. Here there is a journey. Here there is quiet over motor boats and swimmers. Here there is life buzzing and oozing all around. On one such walk along Naples Creek, where young boys were jumping into a swimming hole known as "the digger," I ventured downsteam, creek walking and exploring, and here is what I found: a kingfisher rattling, black damselfies, a water snake I mistook for a stick that quickly swam away, a cobble rock speckled with garnet that spoke to my heart, stonefly nymphs flat against an emerged rock, an abandoned nest in a mossy bank that was possibly a slate colored junco, fly fishing line tangled in an overhanging limb, swallowtail butterflies gathering minerals from a sandy edge of shore, a deer leg, a patch of teal blue water in a deeper pool, and the tracks of a mink.
Creek walking does more than cool the body and spirit during the hot buzz and thick mindfulness of a hot summer day - it awakens us. Once the senses have opened like the pores of the feet, taking in the refreshment of the stream, the flow of life, another part of my mind opens - something akin to the creative force. There is a pleasurable mindfulness no longer aware of the duties of the day, but instead tuned into the creative force of everchanging watercourses, of fecundity, of movement, and lushness. In this fertile place my mind begins to play with the geometry of rocks. I find shapes to form giant dragonflies on a sandbar, or to make into rock people. I find watersoaked roots in shades of white to chocolate to shape into a basket form tied with grapevine and ready for weaving. I find a few special stones that beg to be taken home as treaures from the day. In a simple stroll to cool my body, I have loosened the needs of the day and returned to the essentials of being.
Walking these freshwater creeks or streams put us in the flow. There are adventures and stories all around us, some as old as the ancient inland sea that left behind these layers of shale and slate with the occasional shell or leaf fossil, others as temporal as the season: a hatching of stoneflies, the hunting of a Great Blue Heron, or the ripening of blackberries. How fortunate are we to have such a place and time, in which to travel with water!