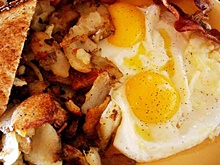 Reading Mr. Seward's lament over his substitute breakfast, memory takes me back to the breakfasts I was raised on.
Every fall as the weather grew cold, our pancake batter crock (gallon size) was brought out at night, and my mother would stir the pancakes for next morning's breakfast. They were made of buttermilk, yeast and genuine buckwheat flour. In the morning soda and water were added to the proper consistency, making a brimming crock of the most delectable goodness, so light it would hardly stay on the griddle and would not stay on the plates; so good it was hard to save even a small amount for the next day's baking.
With these delicious pancakes, we had golden Jersey dairy butter quite different from the lardy compound we are using at the present time.
We did not have maple syrup often, but made a excellent syrup up from real sugar.
Besides this, we had potatoes, large slices of home-smoked ham, brown gravy, home-made fried cakes and coffee with real cream.
Such a breakfast as this I suppose would cause the toast and cereal breakfasters of today to gasp in horror, but when I hear over the radio how the children tumble out of bed to eat the substitutes now used and called so good, I think if they could have a breakfast like those I used to get, they would not go to bed at all.
As briefly announced in the Gazette last week, Orrin Purcell died on the 18th of December 1901. He had been a resident of Canadice for thirty years, living all that time on the farm he bought in Canadice Hollow. He had been sick for several years, and his death was a release from a long period of patient suffering. He was a veteran of the civil war, and his body was carried to its last resting place by his brother veterans. His loss is mourned by a dear old mother, at the age of 84, who has been able to the last to administer to his wants. He leaves, besides a wife, one son, Wells, and two daughters, Mrs. Harlow Hayward and Miss Mae Purcell, all of Canadice and one brother, Smith Purcell, of Richmond. Orrin Purcell was buried in the Canadice Hollow Cemetery.
Around 75 years ago (1826) a strange man drifted into Canadice from no one knew where. Like many others he seemed to become attached to the place and people of this town and it became his permanent home.
For some time he traveled through the town, calling at different homes, asking for food and sleeping in barns and schoolhouses wherever night overtook him. He was known only as Johnny Tramp.
He was supposed to be a native of Sweden around 40 years of age, a short stout man unable to either speak or understand English. He was sometimes employed by the farmers of the community, but mostly seemed to prefer living a solitary life.
After some time B. H. Burch gave him a plot of ground located on the Burch Hill about halfway between Canadice Corners and Canadice Lake, where on a knoll on the north side of the road, he erected a sod and mud hut after his own specifications and ideas, which he occupied for several years.
There, surrounded by forest trees and flowers, he terraced his small plot and raised wonderful vegetables each season, following gardening which seemed to be his favorite work. Sometime later a frame house was built for him, near his mud hut, in which he lived during the warm weather, but because of his fear of fire, he did not heat the frame house, but occupied the mud hut during the cold weather.
A neighbor, Mrs. Thomas Murray, who was employed to prepare his food, also washed and mended his clothing, believed that Old Johnny lost his wife and children in a fire which destroyed his home on July 4th, as on that date he became very excitable and unmanageable.
As he became older it was his custom to visit the Murray home each Sunday morning, when he enjoyed a bath and obtained some clean clothing. Church-goers of that time will recall meeting the elderly man as he was returning to his home. Without scarcely raising his head or looking in their direction he would put his forefinger to his hat and mutter "how-do".
At all seasons of the year he wore a grey felt slouch hat with a narrow brim turned down all around, the crown of which was cone-shaped. He carried a short stick over his shoulder, from which hung a bundle of provisions, a few days' supply. As that was before the old age pension law came into effect, Old Johnny, as he came to be known, was cared for by the town.
He passed away at the Ontario county home in Hopewell some time during the late 1890's, as nearly as older residents recall.
Although his acquaintance was limited, he was missed by those accustomed to seeing him around his little home and along the highway. Some will still remember him as a strange, quiet but peaceable resident of Canadice, and when passing his former home often call him to mind. A summer cottage now occupies the spot memory still reserves for Old Johnny.