The 8th Annual Springwater Music Fair & American Crafts Show (formerly known as the "Springwater Fiddlers Fair & American Crafts Show") will be at Punky Hollow Farm, 8277 Pardee Hollow Road, Wayland, on Saturday and Sunday, September 17 and 18, from 10 a.m. to 6 p.m. both days. It will be the same great event as in past years with new features: now the fair is a two-day event that includes a larger performance tent with headliner bands scheduled, an expanded events calendar throughout the two-day event, and more food and entertainment abound! Admission is $10 per day, free for children under 10, and will go on rain or shine. This year the celebration is in honor of the Springwater Bicentennial.
In two jam-packed days of music you will hear traditional old-time fiddling, as in previous years, plus American roots, Irish, Zydeco, rockabilly, world-ternative, and many more kinds of music ringing in the beautiful hills surrounding Springwater.
Music entertainment on Saturday will be Brothers Blue, The Dady Brothers, Li'l Anne & the Hot Cayenne, and The Buddhahood. On Sunday will be Howie Lester & Friends, Watkins & the Rapiers, The Crawdiddies, Bobby Henrie & the Goners, and an all-music jam from 4:30 to 5:30 with Dutch Hollow Girls, Buffalo Suzuki String Kids, Tasty Parker, Knives and Forks, Allen Hopkins and Jim Clare, The String Chickens, and more.
If you play an instrument, learn something new in one of the workshops and join in the fun at one of our jamming tents with Howie Lester and blues fiddle, Mark Weeg and bluegrass fiddle, Ben Haravitch with clawhammer banjo; Joe Dady with the pennywhistle, or John Dady teaching songwriting.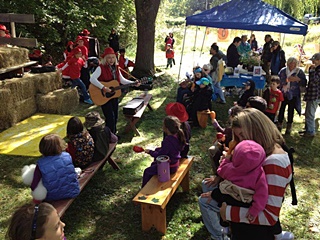 The kids can join Cathy McGrath for a highly active family program of favorite traditional singing games and songs. Everyone will dance, clap, and sing in a celebration of creative movement, self-expression, and friendly cooperation. Cathy uses her guitar, banjo, lumberjack puppets, a flute, and a pennywhistle in her program.
New for 2016—the Suzuki String kids will be having a Suzuki Strings Petting Zoo, allowing other kids to explore their string instruments. Experience the thrill of plucking a string or playing with a bow on your favorite string instrument.
The artists who exhibit with us say this is their favorite show. One thing's for certain—they have become family to us. And every year we add to this amazing talent by finding new and exciting arts and crafts from the Finger Lakes Region. You'll love strolling around Punky Hollow, selecting the most unique gifts: cigar box guitars, gourd art, Native American story paintings, repurposed animal feed bags, hand-blown glass, folk art crafts, basketry, photography, paintings, sculpture, jewelry, clothing, beadwork, pottery, woodworking, textiles, furniture, spoons, pillows and soaps, leatherwork, metal, and stone.
Our Springwater Music Fair food vendors will delight you with everything from fresh healthy local seasonal Finger Lakes dining, to a locally-owned family restaurant with award-winning family recipes and nightly house specials to down-to-earth right-off-the-grill hots, hamburgers, sausages, not to mention funnel cakes and fried dough. Now you can top all this off with a great cup of coffee and your choice from many fabulous baked goods and a variety of ice creams.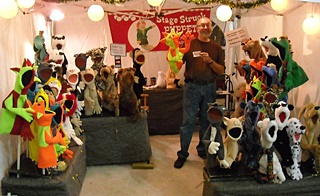 Our Springwater Music Fair food processors and farmers will provide you with an array of freshly prepared jams, jellies, and pickles hand-packed from family recipes. We will have maple syrup from the trees of Springwater and the surrounding Finger Lakes Area along with many maple products, including Maple Fluff. How about frozen custard made with fresh fruit, local fresh organic produce, or farm-fresh eggs (including duck eggs)? Come and shop along our street of farmers, food producers, artists, and craftsmen. Take time to buy some award-winning kettle corn and fill your pantry, root cellar, and cupboards as you enjoy our "fair!"
Nature will inspire your creativity while making a stick person with its own personality or a bark boat that floats, or choose from a variety of other hands-on activities. Join in the music scene and shake, rattle, or roll with your very own homemade music instrument.
Kids and adults of all ages can enjoy building their own fairy house. Use items from your walk on the woodland trails at Punky Hollow or use materials from our woodland stash. Take your creation with you to enjoy in your very own garden.
The Springwater Fire Department's firefighters will be on hand, with their fire truck, to tell you about the fire truck and fire safety.
Seating is limited, so please bring your own chairs. No dogs, other than service dogs, and no alcoholic beverages are allowed on the grounds.
For a complete schedule of events; lists of visual and performing artists, food vendors, and workshops; or, registration information or details; please go to: www.SpringWaterMusicFair.org
The Springwater Music Fair and American Crafts Show is an all-volunteer, not-for-profit organization brought about to promote the love of music and crafts in the Finger Lakes Region.
This project is made possible with funds from the Decentralization Program, a re-grant program of the New York State Council on the Arts with the support of Governor Andrew Cuomo and the New York State Legislature and administered by the Genesee Valley Council on the Arts at the Livingston Arts Center, a member-supported organization.