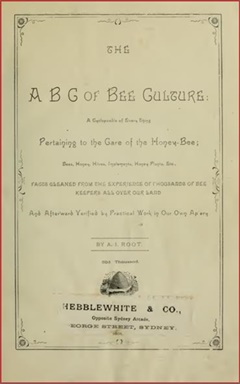 "The ABC of Bee Culture" by A. I. Roots, is a must have reference for beekeepers.
Beekeepers are by no means behind the times, but have important improvements in various directions well worthy of general attention. Mr. A. I. Root, in his "Bee and Honey Guide for 1891", briefly notes some comparatively recent developments.
Among these is the bee escape, which is designed to rid supers of bees. In extracting it saves the labor of brushing off the combs before uncapping. For comb honey the old way of shaking and smoking bees through the sections may be dispensed with. Several styles have been submitted. The Dibbern so far seems to be as good as any.
The general utility of perforated zinc has been recognized for perhaps ten years, but all beekeepers do not yet understand that its great usefulness is in keeping surplus combs free from brood in extracting. California beekeepers are now using it largely, and its use in connection with the bee escape has very greatly simplified the methods of producing the liquid product.
How to prevent burr combs has been one of the serious problems. It is anything but pleasant to lift an upper story off the lower one when the two are stuck fast with brace combs, and even after prying them apart the frames drop down, honey drips from the several brace combs, robbers are invited, and the apiarist and bees are irritated. Discussions on the subject during the year 1890 called out scores of corroborating testimony showing that brace combs can be obviated by a method briefly summed as follows: To prevent burr (or brace) combs use top bars from 5/8 to 7/8 of an inch thick and from 1 to 1 1/2 inches wide, the same spaced about 1 3/8 inches from center to center. There must also be a bee space of 1/4 inch between the upper and lower set of frames, or between the latter and supers for comb honey.
Exact spacing is an important factor in the matter, to get which we must have fixed distances. It has been contended that fixed distances greatly hinder easy and rapid manipulation. That this is a great mistake is shown in the apiaries of some of the largest beekeepers in the world. The fixed frames are handled as rapidly and easily as are the hanging styles. There are few or no burr combs, and the combs themselves, having always been spaced equally distant, are beautiful and true. The Hoffman and the closed end are both largely used by eastern beekeepers.