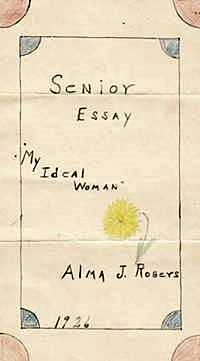 Ruskin believed in his day that the ideal woman really existed. We are all very thoroughly convinced that she exists today. We have read of her in books, we have met her and have in some cases realized her influence.
To me the thought of an ideal woman means a great deal. Beginning with her girlhood let us consider her qualifications and follow her through life. Her early training should consist in an education. She should attend a grammar school and high school. In attending school she will not only receive knowledge of books but also knowledge of the characteristics of others. She will learn t rely upon herself and thus obtain self confidence. These traits of character will be more highly developed as she goes on to college. In her college course if she is preparing for teaching, she can study music for the ideal woman must understand music and domestic science. The knowledge of these will benefit her in future life. Nevertheless, while she is devoting her time to these things she must not forget God. A Bible study or a course which pertains in some way to the Spiritual life should not be forgotten.
Our ideal woman by this time has completed her four years in college and is now ready for three or four, or perhaps more, years in teaching or occupying her time in a useful manner. This will induce more self development and at the same time her former education will be essential. It is fitting that after she leaves college she read many books, good books which will stimulate her life and keep her in touch with the outside world. The books which she reads should be the ones which can ever after be considered her companions. These few years of training will decide for her in many ways her future life.
Without a doubt after several years of training, we say training because she is fitting herself, she will be ready to settle down. This woman has had enough experience so that her choice for a husband will be a good one. She will choose the man for her life partner who has an education, who is strong physically and possesses good morals. Our ideal woman should and would realize that she is her husband's helpmate and companion, not boss. It is absolutely necessary that she be interested in his work and undertakings, not only that she might encourage him but that she might advise him and be ready to take over his business affairs with him. Because she is an ideal woman she will choose for her life partner a gentleman, "a man", who as Emerson says, "is a man of truth, lord of his own actions, and expressing that lordship in his behavior."
After knowing the qualities and characteristics of this woman, I wonder if it is easy for us to picture her home. I am sure it would be a place to which anyone could go and be at home. As a result of her training in college her taste, may I say, would be pleasing. Everything would surely be in harmony. We are sure her home would be a fine place but there is a doubt if it could be greater than her influence. The influence of our ideal woman will be noticed on her family, on the society or club, for she should be a member of some club, and on any society to which she may belong, also on her religious work or any stand which she may take in politics.
Therefore, in conclusion, My Ideal Woman must be in every respect physically strong, spiritually beautiful, mentally awake and influential. If she possesses these characteristics she will be a woman for the ages, one whom all will love because they must.
Alma J. Rogers
27 April 1926
Hemlock NY