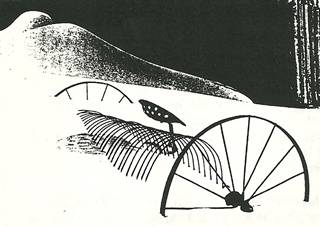 The horse that pulled this hay rake is long since gone and the rake will remain in the field until it rusts away. Or until another World War puts a premium on metal and it is dragged to a smelter.
Why is there no market for used machinery? Why do we send third world countries money, instead of machinery they could repair and use?
Once we hired a house painter. He erected a scaffolding instead of repeatedly climbing his ladder. On paper this sounds like a time-saver. In reality it takes more time to put up and take down the scaffolding than to use a ladder. Whatever.
He was a workman who also left his tools when he was through with them. Like the hay rake above, his tools were where he dropped them when the job was done.
For a month after his visit, our lawn mower encountered hammers, screw drivers (for opening paint cans), nails, ladder hooks and spent caulking guns.
Ellis Alger must have rubbed his hands when he saw our painter show up to get a new set of tools. One wonders about Sears, Roebuck and new coveralls. Bought them by the dozen, we daresay.
Women can't understand men. Men can't understand women. A perfectly normal, God-fearing male citizen drags home junked cars and puts them in his front yard to fix "sometime". She has a closet full of shoes she bought at the Salvation Army. He has the uniform he came home in after Viet Nam. She keeps her wedding dress in a box full of mothballs and tissue paper.
And they both treasure their deep freezer, with the packages Edith gave them during the Ice Storm.
To my knowledge there was never a dentist in Canadice. There were two dentists in Livonia - Young Man Dr. Clapp and Old Man Dr. Clapp. They had separate offices.
Once when I was at Old Man Dr. Clapp's office, he told me he liked to work on my teeth because my mouth was so big. At that time there was no dental hygienist to help with the dental work and no secretary to help keep a record of appointments and payments. We went to the dentist when we had a tooth ache or perhaps a broken tooth.
When I attended high school in Wayland, I went to Dr. Dodge. He also had no secretary or hygienist for help.
After I married and lived in Sparta, I went to Dr. Griswold. He had no help with the dental work but his wife helped with the records. We did have music. He would sing or whistle all the time he was working. He always started with, "Let a Song Be Your Umbrella" and continued with World War One songs.
My son Paul was running in the yard and fell. He hit his front teeth on the edge of an iron kettle. They turned black and eventually fell out. When his second teeth came in, they were spread too far apart. Dr. Griswold put a rubber band around Paul's teeth and every two or three weeks would put on another rubber band. The teeth were pulled into the right position. Dentists use clamps now to straighten teeth - a process that costs sometimes more than $1000.
My next dentist was Dr. Hamsher. He had music and patients made appointments. Dr. Hamsher retired and Dr. Shera, a friend of Dr. Hamsher, took over many of Dr. Hamsher's patients. Dr. Shera has a dental hygienist who does the teeth cleaning and other simple work. His secretary keeps a record of appointments and finances. She also sends a card before the appointment and calls the day before, to remind the patient. I now make an appointment for every six months.
Editors Note: Marion Van Duyne Sutton continues her memories of early days in Canadice. She was born and brought up on a farm operated by Willis and Maude (Becker) Van Duyne. She has contributed many interesting articles to the Canadice Chronicle. She now lives (1996) in Dansville. This summer (1996) she plans to visit relatives in the Midwest - she's a doughty girl, a valiant and productive Canadice native.