Every artist seeks creative inspiration in a personal way. Wearable fiber artisan, Anne M. Fischer, who is nestled in woodsy surroundings in Canadice, finds meaning from the natural order of life around her.
"I look at the setting I'm in. It's all about color and its changes. On a wet day tree bark is rich with deep green lichen. In the winter the moss dies, giving the tree a whole different appearance. I see a sunset with its shades of reds and oranges, and I watch the pinkish cast appear. I think about how I would mix those colors," said Anne.
She calls herself a wearable fiber artist, in contrast to a traditional weaver. Scarves, purses, wraps and vests line her studio in various stages of completion. "It's more about the fiber. It's painting on wool. Each garment is meant to be a shimmering piece of clothing more artistic in design, yet still functional."
According to Anne, her work with fiber captures her observations from her daily walks in the woods and fields. Many of her pieces have a nature theme and are organic in character. She uses hand-dyed, hand-painted fabrics and thread to capture the graceful lines, subtle colors and rich textures that she views in nature. Often the animals depicted in her quilts are constructed entirely of thread. Her art is characterized by the harmonious use of earth tones and rich texture.
"Anyone who dyes will evolve to what they call a color signature, which is a group of colors that they work with that are unique," said Anne.
Anne, a Rochester native, moved to the Canadice area 11 years ago with her husband, Bill Goebel. Both liked to hike, and they had become familiar with the area from frequent visits. While driving on back roads one day, they found a house that met their requirements in country living. A studio was added for Anne.
Prior to that Anne worked for 25 years at Kodak in manufacturing and development. She lived and worked in an urban business environment. She has a degree in Chemical Engineering from the University of Buffalo. She has a Master's in Mechanical Engineering and an MBA from the University of Rochester.
Anne decided to investigate her artistic side. She had been a lover of writing and the visual arts from young childhood. Six years ago Anne began working with traditional quilting piecework, but it wasn't long before she experimented with surface designs. She made a leap to work with clothing. This recaptured her interest in sewing that she was taught by her grandmother and mother when she was in sixth grade.
"I got into felting by accident, and got seriously hooked," said Anne. Unashamedly a fabric collector and hoarder, Anne admitted that all her drawers stay full of material waiting for the perfect idea. She found that commercial patterns all looked the same, and she came up with her own. She was looking for a usable and flattering end product requiring no dry cleaning.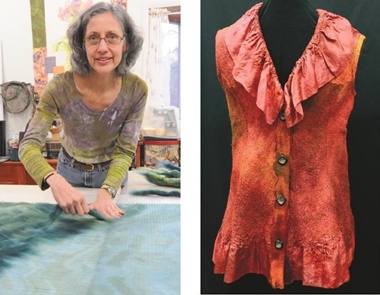 Anne preparing fabric in her studio and a new design by Anne, incorporating felting and silk. Click the image to enlarge. Photos by Pam Bregenzer.
"I took a nuno felting workshop with Joan Berner from North Carolina, who comes yearly to the Finger Lakes Fiber Arts Festival in Hemlock. Nuno felting incorporates silk into the felt. It results in a fabric that is softer and drapes better than traditional felt. I love this new technique!"
While Anne is in the constructing phase of a piece she finds it difficult to sleep at night, especially during the dyeing process. She is wondering about her assumptions and imagining how things will turn out over the approximately three-day period.
"There are degrees of quality in handmade work," said Anne. She recommends specific points to consider when purchasing a wearable piece of art. First, she feels that the inside seams be examined carefully. Also, it is desirable that buttonholes and creative detailing on the fabric itself be skillfully incorporated. Natural fabrics will feel more comfortable to the touch, and will wear better. In addition, felted work should be uniform, with no holes evident when it is held up to the light. There should be no loose bits of wool poking out from either side. Well-made felting feels firm while it is rubbed between fingertips.
She will have work on exhibit, as part of the Rochester Area Fiber Artists, at The Gallery at the Arts and Cultural Council at 277 North Goodman Street in Rochester during March 2012. She belongs to the Rochester Area Fiber Artists, the Rochester Weavers Guild, and the Genesee Valley Quilt Guild.
A wearable fiber artisan designs a timeless piece of clothing. Anne's passion goes one step further, utilizing her scientific background in developing the interplay of color and textures within a garment.
Anne can be located through her Facebook page, Anne M. Fischer or at her website: www.annefischer.com
Kay Thomas is a regular contributor to The Livingston County News.
Diane Olson is the Editor & Publisher of The Lake Country Weekender, LCWeekender@stny.rr.com
Say you saw it in The Lake Country Weekender!