Editor's note: Paul Wailand is a 25-year-old from Hamburg, New York. In 2010, he graduated from the University of Buffalo with a Bachelor of Science degree in electrical engineering, and plans to pursue a Master's degree in plant ecology and physiology. While taking a post-graduate year of school geared towards biological studies, he learned of the Student Conservation Association from a former classmate. He applied to their Backcountry Steward program, and last summer was appointed as a Backcountry Steward to the Hemlock-Canadice State Forest. Here is the story of his adventure:
Simply put, the objectives I was given as a Backcountry Steward were to educate the public about the unique rules and regulations of the Hemlock-Canadice Watershed, and to report on the interactions of the people, the land, and the water. What makes Hemlock-Canadice State Forest so beautiful is the scenery and lack of man-made structures, so I did my best to promote the "leave no trace" ethics by picking up garbage and by deconstructing fire-rings around the lakes and trails.
Working in these scenic woods and being able to provide visitors with useful information, such as the state forest map brochure and information about the locations of all the trails, both marked and unmarked, was satisfying to me. There's no question, it was the best job I've ever had, even though it is considered a volunteer position that I applied for through the Student Conservation Association (SCA) in partnership with the Department of Environmental Conservation (DEC) and Americorps. I call it a "trivalent partnership" by which I was provided funds for just living, a living allowance, and a housing allowance. Half of these funds were provided through philanthropy from an individual donor, whose name I learned only near the last two weeks of the internship.
My objectives of this internship were to get to know the natural world better and how people can best interact in it. I identified several plants new to me, and improved my identifications of other plants, animals and fungi. One of my favorites is wild sarsaparilla. A tea can be made from its roots; I tried this and found it to be a smooth-tasting, slightly sweet dirt-like taste. I was also lucky enough to find a Reishi mushroom, reputed for its antimicrobial and immune system enhancements; a giant puffball (which I sauteed in butter that night, and was so big "as big as my head" that I had no butter left the next day!); and a jack-o'-lantern mushroom with spores that glow in the dark. I also found, by curiosity, that the poison ivy flower is the sweetest-smelling flower I've ever smelled! So much of it grows at the Hemlock-Canadice State Forest that it is hard not to begin to appreciate its cautious beauty, because some years ago I had been covered in juicy blisters caused by an allergic reaction to the urushiol from the broken parts of this plant; this summer I only got mild poison ivy twice on my legs, which went away within a week each time.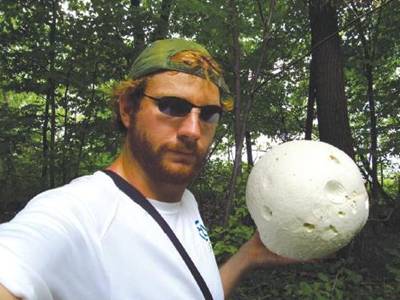 Paul shows off his giant puffball mushroom. Click the image to enlarge.
Indeed, I met a lot of great people of the area, too. All of them were concerned as much as I about the sanctity of the unique preservation of these lakes and their protecting cloaks of land. Everyone I talked to was glad that the State will ever be conserving the lakes and land for the people. In doing so, the State will be continuing to protect one of the City of Rochester's greatest assets, both Canadice and Hemlock Lakes are still a major part of the city's water supply, as they have been for more than 100 years.
I was also fortunate to have been able to participate in the Draft Unit Management Plan(UMP) for the Hemlock-Canadice State Forest amongst the foresters, forest rangers, biologists, geologists, conservationists, City of Rochester officials, and forest technicians. It seems that both the people that live around the lakes and frequent visitors have the most important role of protecting the lake environments because of their close interactions. I feel very fortunate to have participated in this internship with New York State Environmental Conservation. It was an honor to have had this opportunity to get to know these lakes and lands, and it will help launch me into further studies of plant ecology.
Diane Olson is the Editor & Publisher of The Lake Country Weekender, LCWeekender@stny.rr.com
Say you saw it in The Lake Country Weekender!