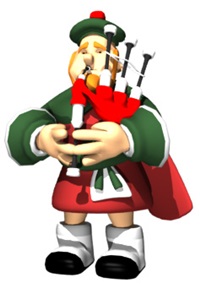 As a bagpiper, Joel Mc Cray began as a young boy under his father's tutorage, who was said to have come from Scotland where he had been a court piper. Young Joel worked hard at his pipes and soon became know at the man to call for funerals. Joel accepted this role proudly and learned all the sentimental tunes that are expected at funerals. Amazing Grace and Danny Boy were always favorites.
Not long ago he had been asked by a funeral director to play at a homestead gravesite. The family had lived on the homestead for generations and the dead man wished to be buried in the family cemetery that was behind the homestead.
The morning of the ceremony Joel practiced before hand to make sure he was ready. And not being familiar with the location of the house he loaded his pipe into his car and started out early. Unfortunately the directions he had received were not exactly correct and he had to stop a few times to clarify where he should go.
But it didn't help, Joel arrived late at the homestead. He was so late, in fact, that the ceremony was over and everyone had already left. There was no hearse, no family cars in the drive and no one at home when he knocked on the front door.
Joel felt bad but remembered that the ceremony was to be at the homestead cemetery so he walked around the house to find the cemetery. He thought that since he had practiced so hard and had come all that way he could still play his tunes for the man even thou his family was gone and no one would hear but the dead man.
As he walked around the house he noticed a crew of diggers shovelling dirt into the hole and walked toward it. It was his routine at funerals to assume a serious posture and walk reverendly and precisely as a soldier as he approached the graves.
Joel walked up near to the hole and began to play. The workers put down their tools and gathered together holding their hats over their hearts.
Joel played his heart and soul out for this man even though no family and friends were near. He played as he had never played before. He played Amazing Grace and Danny Boy and his heart filled with joy and pride as usual. It had been the right decision to play anyway.
Then he stopped and bowed his head for a moment before looking up at the men who were putting their hats back on.
One of the workers spoke out, "That was the most beautiful music I've ever heard."
Joel nodded solemnly and said thanks and to make conversation he asked, "Will it take you fellows long to fill in the grave?"
The men looked at each other oddly for a moment until one finally spoke up. "Grave? No sir. We've just installed a new septic tank here."
Joel stared at the men, then at the hole and then back at the men and they all laughed hysterically.