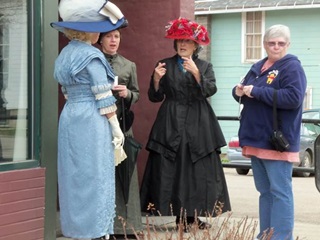 Left to right are Veronica Weiand 1900 ensemble, Stacy Gibson 1885 Victorian era, and Debra Dodds as Civil War widow as they greeted people who attended the program in Cohocton.
Fifty-five people, many of them men who escorted wives and young daughters, gathered at the Cohocton Historical Society in the Tavern Building on Sunday and literally stepped back in time. A few talented women and one man gave those present a history lesson in fashions through the ages as the Cohocton area grew from a simple pioneer post in a farm community to the beautiful little town it is today.
In the summer of 2013 a group of women gathered at the Atlanta Library to discuss and explore their love of fashion history including old photos, jewelry and accessories, but particularly the clothing previous generations had worn. They formed a group called We Wear History, and while they will tell you they are not purists, nor are they re-enactors, much of what they sew or create is historically accurate.
The group started by researching the different types of corsets worn by women and how to replicate them. These are not the corsets worn by Scarlet O'Hara in Gone with The Wind, although many women did aspire to the 18-inch waist, but the everyday undergarment that girls from the age of 5 were required to wear as part of their regular wardrobe. Who knew that there were so many types of corsets? Corsets have been used by women for more than 500 years, but the stays used to shape the corsets are as simple as reeds to whalebones and steel.
Farm wives with their daily chores, women living in the cities, and later on women working in commerce all wore similar undergarments, but the outer garments spoke volumes about their respective stations in life.
Clothing was, for the most part, hand sewn and durable. Pioneer women spun the wool for the under and outer garments and nothing was wasted. Linen and wool were home grown; produced from cotton and sheep raised on the farm. Cloth was shipped from the east to the general stores and women plied needle and thread to sew garments for the family. Men's fashions did not evolve as much in rural communities as they did in the cities, and seasonal items were often made from skins tanned from deer, buffalo, or bear.
Sewing machines were not widely used until the 1850s; hooks and eyes were invented in the 1600s, but were not affordable until the early 1800s. Modern snap fasteners were invented in the 1880s, but zippers as we know them today were invented in 1913 and the earliest models were very impractical.
Pantaloons, bloomers and knickers (underwear) were invented in the 1800s and were flesh colored to wear under the Regency-period filmy dresses. Not widely accepted, in the 1850s younger women and childen adopted these undergarments, but the older women steadfastly resisted.
The We Wear History group meets once a month at the Atlanta Library and they welcome people who are interested in historical fashions. You do not have to sew to join the group, nor is there any judging if what is fashioned is not "correct." These women are willing to share their knowledge of historical fashions and welcome people who want to learn more about the fashions of our forefathers.