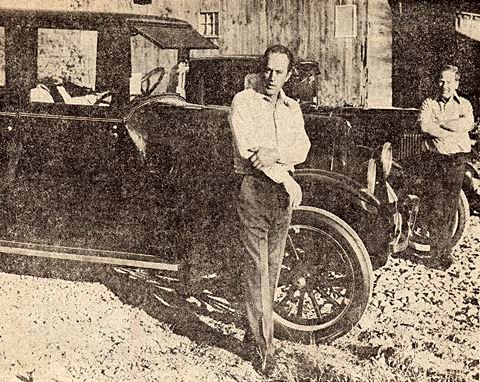 1
Larry Briggs with his Franklin, at left and Dave Schapp with his Nash. Click the image to enlarge.
Values of antique cars, both restored and unrestored, have been appreciating at a fantastic rate in recent years. In fact, the pace of the whole hobby - if that's the right word for something requiring so much time and skill - is accelerating.
Cost of parts and skilled restoration service is skyrocketing. There are speculators into the activity to make money, turning it into a business. It has attracted wealthy participants who never touch an old car - simply turn it over to professional restorers, fork over a $25,000 restoration fee, then bask in the glory of winning prizes at big shows.
Livingston Region Antique Car Club deplores the whole trend and shuns it as far as possible.
Dave Schaap, a tool and die maker who lives in Lakeville, typifies the club's activity and attitude. He restored his 1932 Nash couple himself, learning from books, learning by doing, talking to old-time mechanics and fellow restorers, and getting into every aspect of restoration - painting, replating, body work, upholstery.
The Nash is exposed to public scrutiny and admiration whenever possible. It was parked on Geneseo's Main Street last week as part of a downtown business promotion. It had a "please don't touch" sign on it to avert scratches, but Schaap is not fanatical about the paint job because the Nash is also intended to be used.
"It's fun driving the oldtimers,"says Schaap. "You take the back roads, you relax at slower speeds. You're high off the ground. You have control over your car, not like with the automatic transmissions, where the car is driving you."
He has seen owners under their cars putting polish on the drive shaft and polishing nuts and bolts with toothbrushes. He has known owners ordered away from antique cars by their doctors because of the pressure of competition. The interest can become an obsession.
Like most of the local club members, Schaap has a car or two in reserve. He is working on a 1928 Pontiac. A 1916 Hupmobile roadster, its water jackets and gas tank drained and dried, has been in reserve for eight years. If Schaap were to let the Hupmobile monopolize his free time, he might get it in shape in two years. As it is, working when the spirit moves him, trading body work for upholstery work with other members, always observing the basic rule, "Don't let it become a job," the Hupmobile will probably take at least 10 more years to restore.
Schaap is typical, too, in building social activity around the cars. About half the 10-year-old club's 60 members are wives and relations of restorers. The club has a spring and fall picnic, organizes tours, participates in parades, does a lot of traveling to regional and national shows, publishes a monthly newsletter, and tries to have one group social event a month.
Schaap enjoys all this, enjoys staying at motels for overnighters and at the big shows, enjoys corresponding with other restorers, tracking down the provenance of his cars, and learning about the models.
Though its approach is relaxed, the standards of the club are as high and its competence as great as any similar group's anywhere, and it has a national first-place winner in its ranks to prove it.
Most restorations, like Schaap's, aim at a handsome, sound, reasonably authentic, working automobile, not at the totally authentic, assembly-line condition which is the standard for national contests. Most restorers will put matting on the running board because the car originally had it, but they will pay $15 for a perfectly satisfactory adaptation of some stair tread material, instead of $100 for something that will satisfy a judge.
But Larry Briggs, who has been in the auto repair business in Hemlock for 25 years and who was one of the founders of the Livingston club, did one of the demanding "ground-up" or "nuts and bolts" jobs on a 1923 Franklin.
It was in tough condition when he paid $75 for it in 1956 (it would cost $2000 in the same shape today), and he worked on it for years, ending up with a spotless, boxy sedan, with a satiny maroon paint job and the Franklin's big, oval, back-slanted front. It took a couple of national thirds, four national seconds, finally got the coveted first at Niagara Falls last month, competing in a class which includes Rolls Royces.
Livingston County will be able to enjoy the sight of the Franklin, Schaap's Nash, and more than 100 other restored cars, and will have a chance as well to get acquainted with a remarkably friendly and easy-going group of hobbyists at the annual club-sponsored show next week.
It will be held beginning at noon next Sunday in a parking lot near the new Health and Physical Education building on the lower campus on Geneseo State College. The club will award about 40 trophies to exhibitors from all over Western New York.