Some time ago you had articles by Earl Mastin and Don Stumbo about Jim Mc Clurg. I would like to add to that legend of Jim Mc Clurg.
I was born and brought up at the head of Honeoye Lake where brother George still lives. At the time of this story I was eight or nine years old; I had a cart and a tricycle and played in the road (I certainly wouldn't want any kid to play in any road or street today), but back then if four cars went past the house in a day, it was real busy.
One person who went by every morning was Ed Schlimpf in his Model T Ford touring car. Ed always blew the horn: "Aaah-ooo-gaah!" and I had plenty of time to get out of the road. About once a month in the summer, "Rattlesnake Pete" Gruber went by on his way to Gene Alger's place to buy the rattlers Gene had caught on East Hill. Pete had a beautiful Pierce Arrow touring car with two bronze rattlesnake horns on the front fenders. The chauffeur blew the horns all the way up West Lake Road. I could hear him coming and going for a couple of miles each way.
But now to get to the tale of Jim Mc Clurg.
The Canadice Town road gang (as they were called then) was doing some work on the road a mile or so south of our house. The road was dirt of course (solid mud with ruts in the spring). Jay Becker was Road Commissioner and he would always wave to me as he passed. Jay was a fine man. I always waved back. In fact, I waved to every car that went by.
The Town had a dump truck that was hauling gravel up the road and the man driving would toot the horn and wave. I loved that!
Well, this one time, I heard the old dump truck coming and I got up on the bank so I could wave and the truck stopped. The driver said, "What's your name, little feller?" I said, "Ellis." He said, "My name is Jim Mc Clurg, and I was wondering if you would like to take a ride with me in this truck?"
"Boy oh boy I sure would!"
"Well," he said, "you go tell your mother my name and ask her if it's alright."
I took off for the house but Ma was already coming and said "It's OK." And she said, "You behave!"
Jim said, "I never saw a little boy that didn't behave." Then he smiled and chuckled.
(Jim left this world many years ago but I remembered exactly how he looked. He had a walrus mustache, real brown eyes that always had a twinkle in them. He wore overalls, quite a long frock, a felt hat with a floppy brim and a sort of tapered crown.)
Well, he picked me up and set me in the passenger seat of that big truck. (It seemed big to me. I'm not sure but I think it was a Model T Ford that had been converted from bands to gear shift.)
That was the biggest event that had happened in my life up to that time. I rode for a couple of hours, then I got sleepy from the roar of that old truck. So I leaned over against Jim and went to sleep. Next thing I heard was Jim saying, "It's time to wake up - you're home."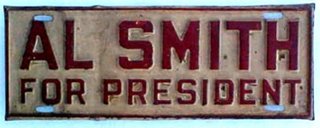 My tricycle was beside the road. Jim said, "I like that sign you have on your trike."
"Really?" I asked.
"Yep, I sure do." The sign was in the shape of a license plate. I had wired it on the back of my tricycle.
Well, no one, and I mean no one, had ever said they liked that sign. Most people looked at it like a snobbish woman looks down her nose at a peon. I thought Jim Mc Clurg was the greatest guy before he saw my sign and now I thought he was super.
Jim asked, "Where did you get that nice sign?"
"Well, some man came by one day and stopped and said, Here kid. Put this on your trike," and I did. Now, there wasn't a Democrat on the West Lake Road as far as you could see in any direction, and then some.
Democrat was a dirty word on the West Lake Road. (In today's society it would have been right up there with the words they use in the movies and some TV shows.) Jim said, "Does your mother like your sign?"
I said, "Heck no!" She told me to get rid of it. She said Al Smith is a "cigar smoking, beer-drinking no good bum!"
Well, Jim laughed and sort of wrung that old felt hat around on his head. I have no idea what Jim's politics were or what party he belonged to, nor did I care. I think Jim Mc Clurg was really a leprechaun, with those mischievous, twinkling eyes. At least he was, in my book.
As Jim was getting back in the truck he said, "Ellis, I think you're a Democrat."
I said, "I sure am."
"Well," he said, "I think that makes four in the Town of Canadice."
Editors' note: Ellis notes that Smith ran against Herbert Hoover for the Presidency in 1928. Smith, a successful Governor of New York State, lost to Vice President Hoover, 15 million to 21 million. Despite his many innovations and reforms, Smith suffered defeat because he was Catholic, anti-Prohibition and from the "big city". Hoover could point to his rescue of Belgian children during World War I, his conservatism and his business acumen. The reputations of both men suffered in the Great Depression of 1929 - 1939.
In Canadice, Democrats were few and far between. Ray Shafer was the nominal head of the party and found it difficult to find election inspectors, a machine custodian or poll watchers from the ranks of his party. In time this changed; Canadice now has Democratic office holders and a strong party organization. And later on, Democrat Ellis Alger himself was elected Town Clerk of Richmond.